Class 3 Dimensional Pages – Creating Keepsakes Kelly Purkey This was a busy class. We had to stamp, heat emboss, die cut and emboss, use stickles and (when we got home use glossy accents). We made one 2 page layout, but because of all the different techniques we used I didn't completely get this put together in class. I won another idea book in this class, I don't think I have this one.
Here is a detail of the glossy accents on the paper flower center. I like how it is raised. I have used it to give a glossy finish to something but now like this.
Class 4 Life's Lyrics – Creating Keepsakes Kelly Purkey
My last class of the first day was a mini album called Life's Lyrics. We used Basic Grey Junebug for the mini. Before class we were to pick out several song's to use in our book. Since I didn't know exactly what we would need, I just brought copies of the lyrics and kraft cardstock to write them out on. It turned out we didn't finish in class so I just did it at home. You didn't have room for all the lyrics, so it worked better to know what it looked like and then pick out the lyrics of a song that had meaning to you. I also won a giveaway in this class, which was a Card Idea book that I am pretty sure I already have, so it will go in the crop night prize box.
After my almost 39 years this song says it perfectly…
My first song was Real Live Woman ` Trisha Yearwood
I no longer justify
Reasons for the way that I behave
I offer no apologies
For the things that I believe
And say
And I like it that way
This song reminds me of when we left California for me to take a my job out here in Arizona. It was a huge change for us a big promotion for me and a huge opportunity for us. I remember listening to this CD on the drive out here that night. We were closing on our first house the next day and I had just started my new position 2 days before. And Arizona seemed like a whole different world from where we had always known.
Wide Open Spaces – Dixie Chicks
She needs wide open spaces
Room to make her big mistakes
If these are life lessons, she'll take this test
This song has been one I sang to both my babies when they would fall asleep when I was holding them. I am sure most parents can relate to this.
Aerosmith "I Don't Want to Miss a Thing"
I don't want to miss one smile
I don't want to miss one kiss
Don't want to close my eyes
Cause I'd miss you baby
And I don't want to miss a thing
Another one for my boys, as a parent you want the best for your kids and you want them to take all that life gives them and not take it for granted.
I Hope You Dance, LeAnn Womack
I hope you never lose your sense of wonder
May you never take one single breath for granted
Whenever one door closes, I hope one more opens
And when you get the chance to sit out or dance
I hope you dance
One more for my boys who have their whole lives ahead of them
"Unwritten" Natasha Bedingfield
Drench yourself in words unspoken
Live your life with arms wide open
Today is where your book begins
The rest is still unwritten
One of my favorite songs is Upside Down by Jack Jackson. I remember one of the first times I really heard it was at Creative Escape in 2006. Stacy Julian was the keynote speaker the last night and I was at a crossroad in my life. I was pregnant with our first child, frustrated with my job and just not really sure where I wanted things to go. There were some things Stacy said that night that I will never forget. The first was "What would you do if perceived impossibilities and insecurities didn't stop you." I felt trapped by the financial security we had from my job. It made me feel I couldn't do anything else. I was working a ton of hours and 6 months pregnant.
The theme of Stacy's whole presentation that night resonated from a lyric from this song "Is this how it's supposed to be". Since that night, I have often questioned that very thing. I can say now I have moved past that place of how I felt about my job, I am sure some of it was pregnancy emotions. But what I won't forget from that night was the check that those words can give me when something doesn't feel right, "Is this how it's supposed to be?" And if the answer is no, then change it.
I thought it was impossible for me to find a "place" in the scrapbooking world. I was wrong; I am doing something I am passionate about. I work more now and sleep less but I love what I am doing. I am realistic that this will probably never allow me to leave my day job, but right now I am okay with that, and that is what is important.
'Upside Down" Jack Johnson
Is this how it's supposed to be?
I want to turn the whole thing upside down
Who's to say what's impossible and can't be found?
I don't want this feeling to go away
So that is it for my first day of classes. I was beat after having classes from 8:30 am to 8:00 pm with lots of shopping in between. I was wishing that I had a hotel room by the end of the day.
Next up Day 2 Classes
On the second day I was able to be with my friends, Jen, Renee and Chaery. We shopped took classes and stayed for the evening crop that night.
Latest & Greatest with Shelby Dredge
This was our first class on Saturday and the one we take every time . Always lots of Basic Grey with a bit of Crate Paper and Fancy Pants Designs. In the class you do 4 single page kits and you can buy the matching page kit for a double layout for about $12. Even though I am usually a single page gal, I do get this. Shelby always designs pages that you can use lots of pictures on, so another great class for just getting some of those random pictures scrapped that are sitting in the binder ready to go.
Here are the pages we made:
Here is my little busybody, Jackson
This one was perfect for some leftover pictures from Nicholas's first Christmas
Since we are a no girl zone, this girly page was perfect for the puppy girlies.
This was a good layout for Nicholas's first trip to the pumpkin patch that I never got around to scrapping.
As always this class is great, you always get a few tricks even when you have taken Shelby's class 2x a year for several years. Things come pre cut for the most part so the pages are pretty quick to put together.
Masking & Misting Techniques taught by Maggie Holmes
This class turned to be sponsored by a kit club (sorry I won't give them advertising here but not hard to figure out if you want to). It was a nice class kit, with full packages of things to use and plenty of leftovers. We did some masking and misting techniques. I have tons of Glimmer and Maya Road mists, but have never used them on a layout, so it was fun to try it out.
I actually won a giveaway in this class too. It was my lucky weekend. (I also won a door prize in the vendor fair).
Here are the two pages we did: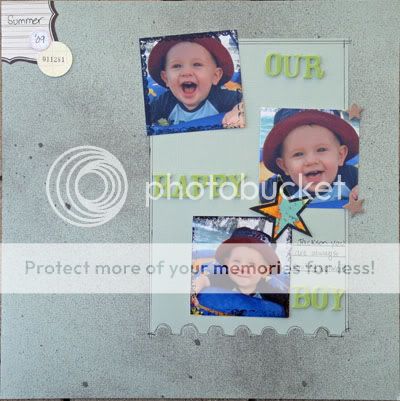 Technique Tuesday Ali Edwards Class taught by Darcy
This class was inspired by Ali Edwards. We did a layout in class using different stamping techniques and then had a take home card. The instructor Darcy was fantastic. The best information I got from the class was when she talked about the different types of inks and what they were best used for. She also talked about glaze pens, which sent us all in search of them after class. We got a great demo at the Technique Tuesday booth and we were sold on them.
Here are the layouts we did, the weren't elaborate in style, but more focused on different stamping techniques.
The last thing we did was the Saturday night crop. We had dinner over at the Yardhouse after a day of shopping then settled in for a night of scrapping at the Saturday Sendoff Crop.
We received a goodie bag and then they gave away door prizes throughout the night. I think 3 of us won a door prize. Both the goodie bag and door prize bag contained tons of things I already had (older idea books, current issue of CK, font software from a few years ago, and also some older embellies) It did come with a pack of cardstock which is always nice. Since I had most of the stuff I put it in the prize box for crop nights at my house, I will probably donate some to someplace too, since 3 of my crop night attendees were with me at the CKC crop night and received some of the same things.
Overall I loved CKC Glendale. The location was fantastic. The shopping this time was really good, a real great mix of newer product, great deals and different vendors. Although the vendor that carries the Bind It All wasn't there even though they were on the map, and that is something I planned to buy. I really enjoyed my classes and instructors. So all in all a good experience that I am ready to repeat soon. Unfortunately it looks like next year will not be at Glendale again, based on the recent dates released. But we still have Mesa and that is only 6 months away!
Tags:
CK Convention
,
CKC
,
Friends
,
Layouts
,
Mini Book