I got to play with the
Color Me Daisy
February Kit a couple of nights ago. Here are a couple of sneak peeks from my layouts: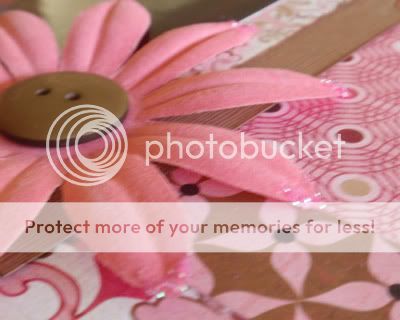 I had some time to work on some other layouts as well. This one is from the Color Me Daisy December kit.
Here is a close up of the trees, I staggered them using pop dots with varying thickness to give it some dimension.
I finally got a page done of Jackson's birth. Took me long enough, LOL! Used Making Memories Animal Crackers line, plus My Minds Eye and Heidi Swapp tags.
I also have finished up several layouts from classes I took at the CK conventions in 2008. Most of them were mostly finished or just needed pictures. It was good to get some pictures on the pages and call them done, even if some of them weren't my favorites.
These are from the September CKC in Phoenix Latest & Greatest class. We used Imaginisce and Basic Grey papers for one page layouts. The store Embellish sells a matching page, which I bought even though I usually don't like to do 2 page layouts. And when I was finishing these I rememberd why. I usually don't like to have to work with so many pictures of the same event.
Journaling on the left says: Nicholas, Clark Kent has nothing on you!"
These were using the Basic Grey lines from last year.
This Layout "Why I Scrapbook" was done at the Backstage with
Cathy Zielske
class. She's one cool ladyand this was the second time I took a class from her. While I don't think my style is quite as "clean and simple" it is definitely more on the "simple" side so I appreciate a lot of what she has to say and she has a funny blog too.
These were from a Quick Quotes class I took in April at the CKC Mesa Convention. I like their classes but they are not relaxing at all. Very fast paced.
The next ones are probably my least favorite layouts. I took two classes from CK. Usually you get really nice products in the class for your projects, but instead this year they gave you the CK scrapbook in a kit's like they sell at JoAnn's. The cardstock and patterned papers in it were thin and the embellishments not all that exciting. But the pages were done, so I may as well use them for some pictures and not worry about it!
These were from a class called Flocked and Fabulous. I didn't really learn anything new. Here we flocked some foam squares.
On this one we flocked some glue pop dots and Doodlebug flocking stickers. The leaves and green border was flocked paper.
This was another CK class – What Matters Most. The papers and embellishments were a bit girly, so for the first one so I made some changes to minimize it since the page was for Nicholas.
Tags:
CK Convention
,
CKC
,
Color Me Daisy
,
Layouts